Top 10 Extra Virgin Olive Oil Recipes
10/08/2023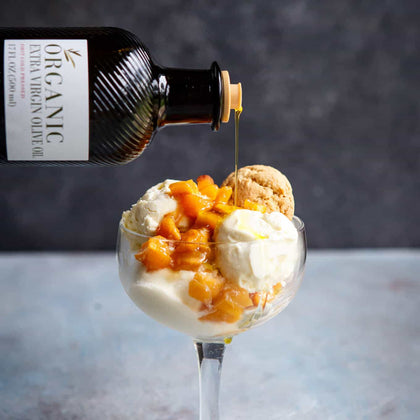 Extra virgin olive oil, celebrated as the "liquid gold" of the culinary world, boasts rich flavor and numerous health benefits. Originating from the Mediterranean, it's a kitchen essential worldwide. Delve into ten recipes that spotlight this treasured ingredient.
1. Classic Italian Bruschetta
Perfectly toasted baguette slices, drizzled with
2 litres of extra virgin olive oil
, topped with tomatoes, basil, and garlic.
How to Make:
Toast the baguette slices until golden. Mix diced tomatoes, chopped basil, minced garlic, and olive oil in a bowl. Season with salt. Spoon the mixture on toasted bread.
2. Greek Salad
Crisp tomatoes, cucumbers, olives, feta cheese, and red onions harmonized with olive oil.
How to Make:
In a large bowl, combine chopped vegetables. Drizzle olive oil, sprinkle salt, and toss gently. Top with crumbled feta and serve.
3. Spaghetti Aglio e Olio
...
How to Make:
Boil spaghetti until al dente. In a pan, sauté garlic in 5 Litres of extra virgin olive oil. Add red pepper flakes, toss in spaghetti, garnish with parsley.
4. Lemon Olive Oil Cake
This dessert contrasts the rich flavor of olive oil with the citrusy zest of lemons, creating a delightful blend of moisture and tang.
How to Make:
Preheat oven to 350°F (175°C). In a bowl, combine flour, baking powder, and salt. In another bowl, whisk sugar, eggs, lemon zest, and olive oil. Gradually mix dry ingredients into the wet mixture. Pour batter into a greased pan and bake for about 30 minutes. Let cool before serving.
5. Olive Oil Ice Cream
A creamy, rich dessert with distinct olive oil undertones that offers a unique tasting experience.
How to Make:
In a saucepan, heat cream and sugar until the sugar dissolves. Slowly drizzle in olive oil while whisking. Chill the mixture, then churn in an ice cream maker until creamy. Freeze for 4 hours before serving.
6. Mediterranean Grilled Chicken
Golden grilled chicken enriched with Mediterranean flavors, a sure summer hit.
How to Make:
Marinate chicken pieces in a mix of olive oil, lemon juice, minced garlic, and Mediterranean herbs for 2 hours. Grill each side for 7 minutes or until fully cooked. Serve with lemon wedges.
7. Olive Oil and Rosemary Bread
This bread boasts a crusty exterior with a soft, airy interior and aromatic rosemary notes.
How to Make:
Combine flour, yeast, salt, rosemary, and water in a bowl. Mix until a dough forms. Knead for 10 minutes. Let it rise for 2 hours. Shape into a loaf, drizzle with olive oil, and bake at 400°F (200°C) for 30 minutes.
8. Olive Oil Roasted Vegetables
Perfectly roasted vegetables that capture the essence of earthy flavors enhanced by the richness of olive oil.
How to Make:
Preheat oven to 425°F (220°C). Toss your choice of vegetables in olive oil, season with salt, pepper, and herbs. Spread on a baking tray and roast for 25 minutes or until tender.
9. Olive Oil Pancakes
Light, fluffy pancakes enriched with the unexpected depth of olive oil, offering a delightful twist to your breakfast routine.
How to Make:
In a bowl, mix flour, baking powder, sugar, and salt. In another bowl, whisk milk, eggs, and olive oil. Combine the wet and dry ingredients. On a heated skillet, pour batter to form pancakes. Cook until bubbles appear, then flip and cook the other side.
10. Homemade Olive Oil Mayonnaise
A creamy delight whisked to perfection.
How to Make:
Combine egg yolk, lemon juice, and mustard in a bowl. Slowly drizzle in olive oil, whisking continuously until thickened.
Inspired to bring Mediterranean magic to your kitchen? Ensure you never run out of the star ingredient. Subscribe to olive oil deliveries or explore extra virgin olive oil direct.